Pressroom
Releases:
In the News:
Customer Quotations: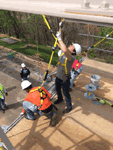 "We have seen measurable results which have led to reduced errors and improved work efficiencies within our production team. We strongly recommend EARN Maryland because it works."

"Like most Maryland employers, our workforce needs are constantly changing as technology shifts occur and customer needs change. EARN Maryland has given us a seat at the table as employee training programs are formulated, evolved, and tailored to the needs of the employer."

"EARN Maryland funding has provided me with career opportunities that were once just a dream."