Taking the Exam - Home Improvement Commission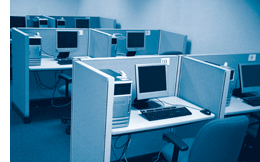 The Contractors' examination consists of 55 questions. The Salespersons' examination consists of 35 questions. The exams are based on laws and regulations relating to the operation of a home improvement business and the sale of home improvement work. Candidates must pass the examination with a minimum of 70% correct responses. Applicants who pass the exam shall apply for licensure within two years or the score expires and the exam must be re-taken.
PSI Examination Services (PSI) provides examination services for the Home Improvement Commission. Examinations for all home improvement license categories are given daily Monday through Friday at PSI's testing centers, located in Baltimore, College Park, Salisbury, Frederick, Hagerstown, Lanham and Crofton. Test dates are by appointment only and confirmed in writing. The exam is by computer and is two hours in length. The standard exam fee is $63.00.
Upon successful completion of the examination, license applications will be sent to the applicant by the testing company.
PSI Examination Services
2950 North Hollywood Way, Suite 200
Burbank, CA 91505
For examination applications, call 1-800-367-1565, e-mail ExamSchedule@psionline.com, or visit PSI's website.
PSI Candidate Information Bulletin: The exam contains content based upon the 5th edition of the Contractors Guide to Business, Law and Project Management.
Examination FAQs
1. Is there a course to prepare for the exam? Is any course required in order to apply for an MHIC license?
Many community colleges offer an MHIC exam prep course. A course is not required. Montgomery College offers an exam prep course in Spanish.
2. How do I register to take the exam for an MHIC license?
To register for the contractor or salesperson exam, please contact PSI Exams online , e-mail ExamSchedule@psionline.com, or call 1-800-367-1565. On the PSI Homepage, click on Government/State Licensing Agencies, then select Maryland as the jurisdiction and select MD Home Improvement as the account. Then click on "download Candidate Information Bulletin." The forms to order the study guide and to register for the exam are contained in the Candidate Information Bulletin.
3. I did not pass the exam. What do I need to do to retake it?
If you did not pass the exam, then you must wait for 30 days until you can reapply. Any subsequent requests cannot be made until 60 days have passed. You must pay the exam fee each time.