State Announces Implementation Grant Awards for EARN Maryland Workforce Training Initiative
BALTIMORE, MD (June 2, 2014) – Today, Leonard Howie, Secretary of the Maryland Department of Labor, Licensing and Regulation (DLLR) announced the 28 recipients of the 2014 EARN (Employment Advancement Right Now) Maryland Implementation Grants. The awardees were selected as the partnerships best able to meet industry-identified workforce needs, and to train Marylanders in the skills employers demand. EARN Maryland Implementation Grant awardees represent the inaugural class of EARN Maryland strategic industry partnerships funded under this state-funded competitive workforce and economic development grant initiative.
EARN Maryland, managed by DLLR, is a first-of-its-kind State skills training and economic development initiative that is business-led, flexible and collaborative. EARN Maryland is designed to ensure that Maryland employers have the talent they need to compete and grow while providing targeted education and skills training to Maryland workers.
"There is no progress without a job. By awarding today's state-funded Implementation Grants to these selected strategic partnerships, we're moving our State forward and helping more Marylanders get the skills they need to qualify for Maryland's most in-demand jobs. Working together, we're ensuring that these EARN Implementation Grants will provide industry-specific, state-of-the-art training for high-demand occupations," said Governor O'Malley.
"Maryland is a great place to do business, and the Strategic Industry Partnerships being recognized today reflect a diverse, thriving economy," said Lt. Governor Anthony Brown. "Through EARN Maryland, we're partnering with our business community to help more Marylanders get the skills and credentials they need to qualify for quality jobs, while ensuring our companies can compete in a 21st Century, global economy."
"EARN Maryland will build on a coordinated workforce training pipeline. Collaboration is key. Partnerships can include non-profit organizations and community groups, along with local workforce investment boards, community colleges, economic development agencies, foundations, universities and industry associations. This is a brand new way to look at workforce training and preparing people for better employment," said Maryland Department of Labor Secretary Leonard Howie.
"Allegany College of Maryland is proud to be named an EARN Maryland grantee and to be the lead partner in the 'IT Center of Excellence: Preparing Rural Western Maryland for the Future' project. We look forward to collaborating with local businesses and economic and workforce leaders through our Information Technology Strategic Industry Partnership. Funding through this partnership will help us to identify, reach, and support technology innovators and, ultimately, to put our area's workforce to work and spur economic development in our region," said Cynthia S. Bambara, President, Allegany College of Maryland.
Implementation Grants, awarded today, will fund worker training in the skills that employers demand, from the training providers best able to meet industry-identified needs.
The average Implementation Grant award amount is $179,302. Please see below for the complete list of grantees by industry.
About the Maryland Department of Labor
The Maryland Department of Labor is committed to safeguarding and protecting Marylanders. We're proud to support the economic stability of the state by providing businesses, the workforce, and the consuming public with high-quality, customer-focused regulatory, employment, and training services. For updates and information, follow the Maryland Department of Labor on Twitter (@MD_Labor), Facebook and visit our website.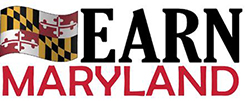 2014 Implementation Grant Awardees Strategic Industry Partnerships
Partnerships
Grantee(s)
BioTechnology

| | |
| --- | --- |
| BIOTrain | Montgomery College |
| | |
| Biotechnology Baltimore Strategic Industry Partnership | Baltimore BioWorks, Inc. and BioTechnical Institute of Maryland, Inc. |

Construction

| | |
| --- | --- |
| Prince George's and Charles Counties Construction Industry | Finishing Trades Institute |
| | |
| BIM Technology for the Incumbent Worker in the Construction Industry | Towson University Division of Innovation and Applied Research |
| | |
| Project Jump Start Construction Industry Partnership | Job Opportunities Task Force (JOTF) |

Cybersecurity / IT

| | |
| --- | --- |
| IT Center for Excellence: Preparing Rural Western Maryland for the Future | Allegany College |
| | |
| Central Maryland Cyber/IT Consortium | Anne Arundel Workforce Development Corporation |

Green Industry

| | |
| --- | --- |
| Water and Wastewater Career Development Partnership of Central Maryland | Maryland Environmental Service (MES) |
| | |
| Baltimore Green Strategic Industry Partnership | Civic Works |

Healthcare

| | |
| --- | --- |
| Healthcare Workers RX for Employability | Montgomery Business Development Corporation |
| | |
| Ready to Care: An Eastern Shore Partnership to Train Healthcare Workers | Eastern Shore Area Health Education Center |
| | |
| Baltimore Healthcare Partnership | Baltimore Alliance for Careers in Healthcare (BACH) and Center for Urban Families |
| | |
| Southern Maryland Healthcare Industry Alliance | Tri County Council for Southern Maryland |
| | |
| Healthcare Partnership of Prince George's and Charles Counties | Associated Black Charities |

Health Information Technology

| | |
| --- | --- |
| m-Health Focused Health Tech SIP | Howard Community College |
| | |
| Health Information Technology Strategic Industry Partnership | Community College of Baltimore County |

Retail/ Hospitality

| | |
| --- | --- |
| Building Employer-led Alliances for Careers in Hospitality - Eastern Shore (BEACHES) | Wor-Wic Community College |
| | |
| Purple Line Skills Training Partnership | CASA de Maryland, Inc. |
| | |
| Baltimore Regional Culinary/ Hospitality Strategic Industry Partnership | Humanim |

Logistics / Transportation

| | |
| --- | --- |
| Susquehanna Transportation and Logistics Partnership | Cecil College |
| | |
| Marine Trades Industry Partnership | Marine Trade Association of Maryland |
| | |
| Maritime Transportation & Logistics | Maryland New Directions |
| | |
| Mid Maryland (MOVE) Transportation & Logistics | Montgomery College and Hagerstown Community College |

Manufacturing

| | |
| --- | --- |
| Susquehanna Manufacturing Coalition | Susquehanna Workforce Network, Inc. |
| | |
| Washington County Manufacturing Partnership | Volvo Group Trucks Operations of Mack Trucks, Inc. |
| | |
| Manufacturing Workforce Partnership of Frederick County | Wright Manufacturing |
| | |
| Maryland Manufacturing Boot Camp | Maryland Manufacturing Extension Partnership |
| | |
| Maryland Offshore Wind Strategic Industry Partnership | Humanim |