Maryland Department of Labor Available to Assist Marylanders Affected By Recent Floods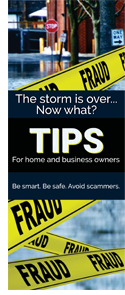 BALTIMORE (May 28, 2018) – In response to Governor Larry Hogan signing an Executive Order declaring a State of Emergency on Sunday, May 27, 2018 due to excessive rain and flooding in the State, the Maryland Department of Labor is prepared to provide assistance to Marylanders affected by the storms.
"The Maryland Department of Labor has enacted emergency preparedness plans and is poised to provide assistance to both homeowners and business owners affected by the heavy rain, wind and severe flooding," said Labor Secretary Kelly M. Schulz. "The Labor Department is working closely with other state agencies to ensure that all Marylanders are safe as the damage from the storm is being assessed."
The Maryland Department of Labor is here to help. Below are a list of services available:
Division of Workforce Development
The Maryland Department of Labor's Division of Workforce Development and Adult Learning will provide job search services at all of the American Job Centers conveniently located throughout the State on a daily basis to assist all dislocated employees in connecting to employment opportunities. Find the center nearest you. Services include:
Supporting individuals in navigating the Maryland Workforce Exchange system
Providing resume writing assistance and resume reviews.
Guidance on job search techniques and strategies.
Interviewing tips and tricks, including practice interviews.
Targeted recruitment events for impacted workers.
Business service staff outreach on behalf of impacted workers to connect to new opportunities.
Unemployment Insurance
The Maryland Department of Labor's Division of Unemployment Insurance is prepared to assist individuals who are unemployed as a result of the disaster in Ellicott City. The following services are available:
The American Job Centers have staff and computers available to assist individuals with applying for unemployment. The Centers are also prepared to provide any re-employment services needed.
Claims for unemployment insurance benefits can be filed over the phone or online. Claim Centers take claims by telephone only every Monday through Friday from 8:00 a.m. – 2:00 p.m.
Individuals may file a claim by phone by calling 410-853-1600 or 1-877-293-4125 (toll free in MD only).
Individuals may file a claim by online by visiting mdunemployment.com and clicking on "Apply for Unemployment Benefits."
Claimant Information Service is available to answer questions about unemployment insurance benefits at 410-949-0022. Callers from Maryland but outside of the Baltimore area can call 1-800-827-4839.
Labor and Industry
The Division of Labor and Industry is prepared to assist both employers and employees remain safe in the aftermath of the storm. The following assistance is available:
The Maryland Occupational Safety and Health (MOSH) unit can assign personnel to the disaster site for consultation assistance. For a free safety and health survey relating to clean up risks and hazards from flood damage to your business, contact MOSH Consultation Services at 410-527-4472.
MOSH can also offer a supply of safety glasses and personal protective equipment including vests, gloves, and hard hats.
The Maryland Occupational Safety and Health's (MOSH) emergency phone number to report a workplace accident or fatality is 1-888-257-6674.
The Safety Inspection Unit can provide final inspections of affected equipment such as elevators, boiler and pressure vessels and the railroad line. To reach the Safety Inspections Unit immediately, please call the emergency phone number at 410-767-2990 or e-mail: ​dldlisafetyinspection-dllr@maryland.gov​. The Safety Program Manager, David Dearborn can be reached at 410-767-0909 during normal business hours. His cell is 443-798-4590.
Occupational and Professional Licensing
The Division of Occupational and Professional Licensing will offer free occupational or professional replacement licenses to those whose license were damaged in the flood. Please contact 410-230-6231 for more information.
The Maryland Home Improvement Commission (MHIC) advises homeowners who have experienced flood damage to only use licensed contractors. MHIC offers these guidelines to assist consumers in protecting themselves and their homes:
Only hire licensed MHIC contractors.
Contact MHIC to check on the contractor's complaint history.
Obtain estimates and references from several licensed contractors.
Be sure to check references.
Always get a written contract, and pay no money before the contract is signed.
Once the contract is signed, pay no more than one-third of the contract price as a deposit.
If a building permit is required, make sure the contractor shows you the permit before work is started.
Be sure to get a copy of the contractor's current liability insurance certificate.
For more information, contact 410-230-6169.
To find reviews on businesses with ratings from A+ to F, visit the Better Business Bureau online or call 410-347-3990.

About the Maryland Department of Labor
The Maryland Department of Labor is committed to safeguarding and protecting Marylanders. We're proud to support the economic stability of the state by providing businesses, the workforce, and the consuming public with high-quality, customer-focused regulatory, employment, and training services. For updates and information, follow the Maryland Department of Labor on Twitter (@MD_Labor), Facebook and visit our website.
MEDIA CONTACT:
Theresa Blaner
Director, Communications and Media Relations
410-230-6241 (office)
443-721-8637 (cell)