Maryland Adds 10,800 Jobs in October
Since January, Maryland gained 43,200 jobs
BALTIMORE, MD (November 20, 2015) – The U.S. Department of Labor's Bureau of Labor Statistics (BLS) released state jobs and unemployment data earlier today. According to the preliminary survey data, Maryland added 10,800 total jobs over-the-month. Maryland's private sector added 12,500 jobs over-the-month. Maryland has recorded jobs gains in seven out of 10 months in 2015. Please note that Maryland's preliminary jobs estimate for September was revised by BLS from a loss of 4,000 jobs to a loss of 300 jobs.

The Maryland October preliminary unemployment rate remained steady at 5.1 percent (September revised).
"The upward trend in jobs and growth in business creation shows that Maryland's economy is improving and stabilizing. It also indicates greater confidence in this Administration's economic development policies as a driver of job creation. It's an indication of confidence in the economy and the direction it's going in—we're seeing that potential employers are feeling more confident about opening a business here in Maryland, than they have in the past," said Governor Larry Hogan.

"I am proud to announce that as of October, Maryland now has almost 7,000 more businesses than we had in 2011, the low point for business creation in the State. As the number of Maryland employers continues to rise, it's clear that that Maryland is 'open for business," said Kelly M. Schulz, Secretary of the Maryland Department of Labor, Licensing and Regulation.
According to data released today, the Mining, Logging, and Construction sector added 1,700 jobs mainly attributable to building construction. The Manufacturing sector gained 1,800 jobs. (The Durable goods subsector added 500 jobs and the Non-Durable goods subsector gained 1,300 jobs. Gains in the Non-Durable Goods subsector were seen in food manufacturing businesses and gains in the printing and related support activities subsector.) The Trade, Transportation and Utilities sector added 2,700 jobs. (The Transportation, Warehousing, and Utilities subsector gained 500 jobs. The Wholesale Trade subsector added 200 jobs and the Retail Trade subsector gained 2,000 jobs, attributed to clothing and clothing accessory stores and sporting goods, hobby and musical Instrument shops.)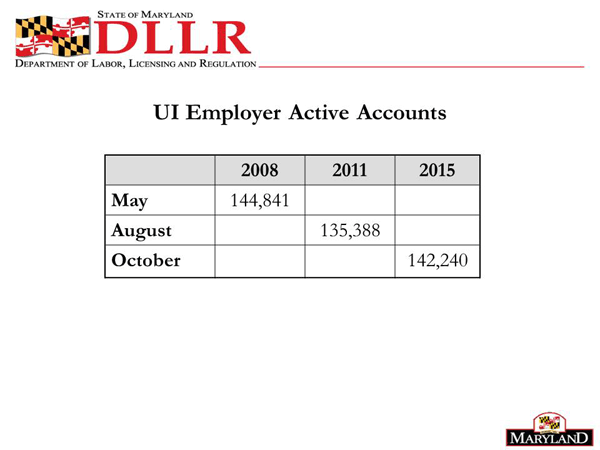 About the Maryland Department of Labor
The Maryland Department of Labor is committed to safeguarding and protecting Marylanders. We're proud to support the economic stability of the state by providing businesses, the workforce, and the consuming public with high-quality, customer-focused regulatory, employment, and training services. For updates and information, follow the Maryland Department of Labor on Twitter (@MD_Labor), Facebook and visit our website.
Note: Data is spidered in on the DLLR website directly from the Bureau of Labor Statistics (BLS) using Datazoa and a slight lag may exist as the database is refreshed.
For immediate access to this month's jobs data please go to the Bureau of Labor Statistics (BLS) website.