Reopening of Ocean City Landmark Kicks Off Amusement Ride Season
BALTIMORE (May 25, 2018) – Jolly Roger Amusement Park, an Ocean City attraction for more than 50 years, recently celebrated the return of the Giant Ferris Wheel, a long-time family favorite on the south end of Ocean City's famous boardwalk. Attended by the Department of Labor, Division of Labor and Industry (DLI), the grand reopening event served as an informal kick-off to amusement ride season, a busy time of inspections for DLI's Amusement Ride Safety Inspection Unit.
The Giant Ferris Wheel is a 116-foot Ferris wheel that has delighted park goers since 1986. A boardwalk favorite, the wheel provides riders with sweeping views of Ocean City, the beach, ocean, and inlet. Disassembled for general maintenance last October, the Ferris wheel received important maintenance and safety upgrades. As with all ride maintenance in the state, the Safety Inspection Unit was on site to ensure the wheel was re-erected properly and operating safely.
"The Giant Ferris Wheel has been a fixture of the Ocean City skyline for many years," said Labor and Industry Commissioner Matthew Helminiak. "We are grateful to Jolly Roger for sharing our mission and investing in the safety of their visitors. With these important upgrades, we look forward to many more years of safe fun for families visiting Ocean City."
Maryland's full-time amusement ride inspection team prevents injuries, protects property, and saves lives of individuals using amusement attractions through competent and professional onsite inspections. The team annually inspects each ride and attraction throughout the state, as well as inspections each and every time a ride or attraction is moved, as with carnivals and fairs. In 2017, the team inspected 6,430 amusement attractions throughout Maryland and registered 4,643 rides and/or attractions.
"We are very proud of the Amusement Ride Safety Inspection Unit and the work they do," said Labor Secretary Kelly M. Schulz. "Our inspectors work diligently throughout the year to ensure the safety of every Maryland amusement-goer. They travel all across Maryland, inspecting amusement attractions from roller coasters to ski lifts – their dedication is unparalleled."
Inspectors look for faults in the rides, and ensure adherence to safety regulations. Outreach and education during inspections have helped the state, consumers, and ride vendors by increasing awareness of and compliance to safety regulations.
Rider responsibility and safety are equally as important as ride inspections. The Amusement Ride Safety Inspection Unit reminds all riders to be safe riders. To help ensure a good time this amusement season:
LOOK, READ and FOLLOW the posted rules.
OBSERVE age, height, and weight restrictions.
FOLLOW the instructions of the ride operator.
CHECK that the ride operator is wearing an identification badge.
KEEP hands, arms, and legs inside at all times.
USE safety equipment, such as seat belts and shoulder harnesses when provided.
STAY in the ride until it comes to a complete stop.
Maryland is the only state with a dedicated full-time amusement ride inspection staff. The unit has existed for more than 40 years, and employs seven people. Learn more about the Amusement Ride Safety Inspection Unit.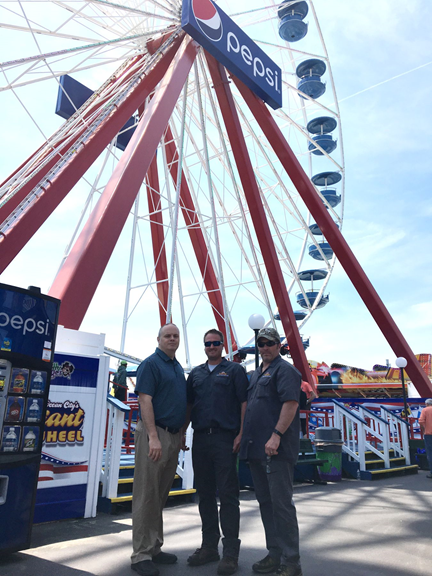 Pictured L to R: Safety Program Manager David Dearborn, Inspector Robbie Finecy and Inspector Pete Yeagy in front of the reassembled Giant Ferris Wheel in Ocean City, Maryland.
About the Maryland Department of Labor
The Maryland Department of Labor is committed to safeguarding and protecting Marylanders. We're proud to support the economic stability of the state by providing businesses, the workforce, and the consuming public with high-quality, customer-focused regulatory, employment, and training services. For updates and information, follow the Maryland Department of Labor on Twitter (@MD_Labor), Facebook and visit our website.
MEDIA CONTACT:
Summar Goodman
Director, Communications and Media Relations
410-230-6069 (office)