Adult Learners Celebrating Success! – Success Story - Workforce Development and Adult Learning
"Congratulations, Worcester County Class of 2022!"
Graduate Recognition Ceremony, August 16th, 2022, Worcester County Board of Education
From left to right: Christine Oberheitmann, Crystal Baker, Alexander Simmons, Elizabeth Jones, Jesus Felipe Ramirez Borrego, Worcester County Board of Education President Elena J. McComas, Monica Yadira Gallegos Chavez, Worcester County Public Schools Superintendent, Louis H. Taylor, Kai Taylor, William D. Kearns IV, Tanasia McKeithen
---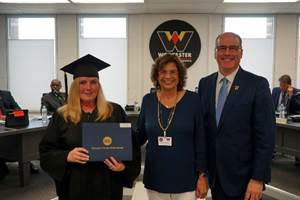 Christine Oberheitmann is now studying
at Wor-Wic Community College.
She is pursuing her Associates degree
in Early Childhood Education, and she currently works in the Worcester County Public Schools.

---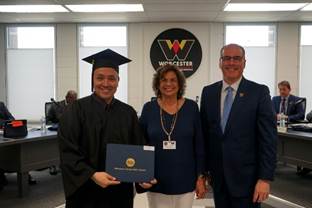 Jesus Felipe Ramirez Borrego, after obtaining his Maryland High School Diploma, obtained a job in New York City, where he is working in set design on Broadway. Jesus is now enrolled in the Continuing and Professional Education Division of The New School in NYC, in their Virtual Fashion Design Certificate Program.
---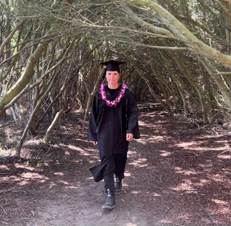 Kai Taylor earned his
Maryland High School Diploma.
He currently works
in the boating industry in
Ocean City, Maryland.
---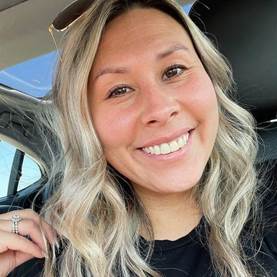 Alex Conquers High-Stakes Test Anxiety with NEDP®!
"I have really bad test anxiety. I knew taking the GED® the way it was, there was no way I could do it. As far as math and science, just the thought of it freaked me out.… There was a lot of fear. But I did my research and found the National External Diploma Program. I love how it works through things you're already applying to life. It helps you not only in the subjects, but it makes you dig deeper in real life, like studying interest rates in math."
Anne Arundel Community College, Maryland High School Diploma Holder
---
Leveling Up Through Multi-Language Learning
"Anne Arundel Community College's (AACC's) English programs helped me achieve my goal of improving my English skills to be prepared for the future. Personally, I think communication is a skill that is required for every job. The AACC English programs can teach real-life skills needed for the real-world and job preparation. Once I complete my
English for Academic Purposes
courses, I want to continue my studies to become a medical assistant in the future. My goal is to have a job as a medical assistant and get a degree to become a certified professional. I want to thank my AACC coordinators Jessyca and Hannah for supporting me through my AACC courses and answering my questions as soon as they can. I especially want to thank my teacher Ms. Megen who has taught every class I've been enrolled in. She is a very good teacher who is kind and appreciative of her students. I am very lucky to have her as my teacher. Thanks, Ms. Megen!"
– Rona Safi, Anne Arundel Community College, Central Sterile Process Program Completer, English for Academic Purposes Student

---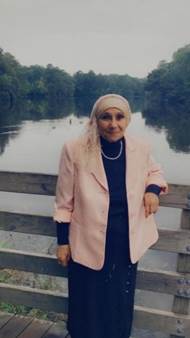 "When I came to the United States the first time, I faced culture shock—and it was a challenge for me—related to the English language with the American accent because it doesn't work exactly like I studied in my country. It has a big difference in the accent, the speed, and the way that the people speak. So, I determined to study English as a second language because I felt embarrassed. That motivated me to attend AACC's English Learning (ELL) program, which is bound to benefit me for the rest of my life.
My plan is to continue studying in the law field, which I graduated from back at Cairo University [Egypt]. I am going to study Paralegal at AACC, and I am thinking for more to study."
-Fatma Ebaid, Anne Arundel Community College, ELL Program Completer Student