Skilled Immigrant Task Force - Workforce Development & Adult Learning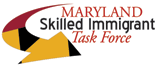 The Skilled Immigrant Task Force collaborates across organizations to advance workforce system accessibility and career opportunities for foreign-trained individuals in Maryland.
The Maryland Skilled Immigrants Task Force is a consortium of stakeholders that seek to leverage skills that foreign-trained professionals bring to the United States in order to meet local job market demand. Task Force membership consists of representatives from the Maryland Department of Human Services, the Maryland Department of Labor, community colleges, refugee resettlement agencies, American Job Centers, the Governor's Office of Community Initiatives, and other immigrant-serving organizations.
Skilled Immigrant Task Force FY23 Directory
Skilled Immigrants are those who have acquired extensive education and/or occupational experience abroad. Many come to Maryland ready to work, offering great benefits to local industry, including global skills, multilingualism, workplace diversity, and cultural knowledge. Unfortunately, prior to securing employment in their professional fields, skilled immigrants often experience significant challenges including limited English language proficiency, costly credential evaluations of their foreign degrees, complex licensing and recertification processes, lack of professional networks, and lack of knowledge on alternative career pathways.
The Task Force believes that the State of Maryland can lead the way in creating a win-win environment in which immigrants secure jobs matching their professional and educational backgrounds while helping the business community more readily meet its workforce needs.
Learn more about the Task Force's efforts:
Maryland Workforce System Survey: Serving Limited English Proficiency (LEP) Individuals and Skilled Immigrants
Created to assess how Maryland's WIOA network serves skilled immigrants and Limited English Proficient individuals, this Workforce System Survey has driven the creation of technical assistance and cross training opportunities.
Resources created by the Task Force:
Career Pathways in Engineering in Maryland
This career pathways guide provides an overview of resources available to assist internationally trained engineers in Maryland return to their profession.
Staff Resource Guide for Skilled Immigrants in Maryland
This resource guide is designed to assist service providers who are working to support work-authorized internationally trained professionals. It includes resources that are available to skilled immigrants nationally and additional support services in Maryland.
Quick Start Guide Flyer: Financial Literacy Guide - Education, Services, and Resources for Maryland Immigrants
Quick Start Guide: Financial Literacy Guide - Education, Services, and Resources for Maryland Immigrants
This guide lists a variety of financial education providers throughout Maryland as well as information about common financial questions, including loans, taxes, unemployment, and frauds. This guide is also available in Amharic, Chinese, Dari, French, Korean, Pashto, Spanish, Swahili, Tagalog, Tigrinya, and Vietnamese.
Resource Guide for New American Job Seekers
The Maryland Skilled Immigrant Task Force created this guide to provide helpful statewide and local resources for New American Job Seekers. It includes lists of nationwide organizations and services/programs provided to the New American jobseekers. Nationwide and local resources with descriptions, phone numbers, and links are provided. This guide is also available in Arabic, Chinese, Dari, French, Korean, Pashto, Spanish, Swahili, and Vietnamese.
International Talent One-Pager
The Maryland Skilled Immigrant Task Force created this one-pager to highlight the benefits of hiring foreign-trained professionals for businesses and employers. It also includes local organizations serving New Americans and fast facts on New Americans in Maryland.