Meet John – Maryland Apprenticeship and Training Program – Success Story - Workforce Development and Adult Learning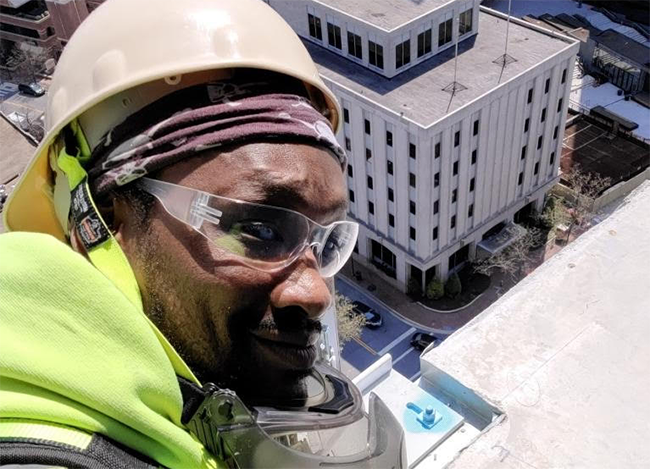 There is a perception that family will be the primary influence in the outcome of how a young person turns out in life. With a father as a career law enforcement officer and a mother as a nurse, the perception would be that John had all the pieces needed for a seamless transition into adulthood and a successful career. Life, however, had another path for John and that path was going to be much longer and lead down a much windier road than anyone could have known.
John's pre-teen years were the first sign that the transition into being a teenager and an adult were going to be challenging. By age 12, John was chronically running away and spending much of his time homeless. School was an afterthought, and education was no longer delivered in a high school—rather on the street and through the people he met there. School lunches were replaced by learning to get to the local fast food dumpsters as they closed to ensure he could get the scraps thrown away at closing. Showers before going to bed were replaced by getting the local Y as soon as they opened so he could shower and catch a nap in the warmth of the locker room. The part-time jobs that most teenagers have to earn spending money were only worked minimally when "crime wouldn't pay the bills."
The teenage years grew only more challenging as one bad decision after another led John to a major fork in the road. Unfortunately, that fork did not offer many options. At 20 years old, John was arrested, convicted, and sentenced to over 100 years to be served in various correctional facilities. As John explained, "My whole life appeared to be coming to an end. My mother fainted in the courtroom while my father stood there in stunned silence. I may not have known it then but my sentence sobered me up, helped me to realize what I had become and forced me to take responsibility for my actions and for my own future."
That future was yet unknown but the fork in the road had presented itself and John chose the right fork, the fork towards positive change for himself and for those with whom he was incarcerated. Over the next twenty-five years, John set about on a course of self-improvement that most people cannot imagine. Education became a passion with free time spent studying, reading, and learning. As a result of his hard work and educational programs offered in the facilities, he successfully completed his high school diploma. This education inspired even more passion in him as he sought to spread his knowledge to his fellow inmates by becoming a certified tutor in the facility. As a tutor, John spent time helping his peers learn to read and to write. John emphasized, "There is no greater feeling than to help another human being learn to read. When you see a 50 year old man learn to read, and when you get to watch him read a book for the first time to his grandchild, it brings you straight to tears."
However, that education was not enough. John realized his accountability and self-improvement had just begun. His good behavior, work ethic, and positive attitude were being noticed and in turn were presenting new opportunities. John signed up for and was awarded a seat in a four-year electrical style apprenticeship program for the incarcerated. Over the next four years, he persevered through the training and completed his program. This training, coupled with his recently awarded high school diploma, played, as John put it, "a large role in ensuring that my time in the facility was spent reinventing myself and ensuring a future should God grant me another chance."
On May 21, 2019, that second chance was granted as John exited his final facility as a free man and straight into the arms of his sister. They immediately headed home to Prince George's County where he would reside with her while starting life over in a world that had changed many times over since he had last walked as a free man.
John's passion for change was matched by only that of his sister, who immediately helped him with the process to get his Maryland State Driver's License. John joked, "I hadn't driven in over 25 years and I made sure the tester knew that. When she asked why, I told her I wasn't allowed to drive in prison!"
With a driver's license in hand, John accepted a referral to apply for, and then be interviewed at his first career opportunity. In late August 2019, John woke up early and embarked on his interview with the Ironworkers Local Union 5 Joint Apprenticeship and Training Committee (JATC). He left the house early with the directions on a piece of paper, a smile on his face, and a positive attitude at the ready.
Gary Armstrong, Training Director for the Local 5 JATC explained, "John was referred to us by another member who spoke highly of him. I knew he had a background but that was not important. What was important was that he met qualifications and had a good interview."
The good interview was going to be a challenge as a speedbump was squarely in the path between John and the JATC. John walked in 20 minutes late, still having a positive attitude, but distressed. Gary explained to John how critical it was to be on time, and if you cannot be on time for an interview, then they could not depend on you to be on time for work with their contractors.  John showed Gary the paper with the handwritten directions, along with an apology for misunderstanding the route. Gary, laughing at the memory, said, "I asked John, 'Why are you handwriting directions? Why wouldn't you just use your GPS?' Laughing still, he explains, 'John looked right at me and said, 'Mr. Armstrong, I just got out of jail after 25 years. I have no idea how to use a GPS, but I really want the opportunity to show you how hard I'll work for this chance.'"
With that, John was awarded a coveted spot as a Registered Apprentice in the Ironworkers JATC.  For the next 16 months, he would work six days a week, 10 hours per day, on a construction site in Virginia.  He worked day after day and proudly let everyone know he was the only apprentice that had not missed a single day of work.  Determined to eliminate any barriers that might hinder his success, he saved his checks and quickly purchased a cell phone, followed by a second cell phone.  He also ensured that transportation would not be an obstacle to work as he purchased a used pickup truck followed by a backup vehicle.
Local 5 Business Manager, Aaron Bast, was asked about giving a second chance to an apprentice such as John.  Aaron quickly replied, "In the Ironworkers Apprenticeship, we are in the business of building careers for people's futures and not condemning them for the mistakes in their past."
John is determined that those past mistakes will not condemn him but instead will be used as an opportunity to help others. He regularly refers jobseekers to the Local 5 JATC and encourages everyone he meets to enter into an apprenticeship. John believes opportunity is there for everyone and that one just has to look at his/her life to see how many possibilities are there.  John explained, "I refuse to let my crimes define me, I refuse to let my 25 year prison sentence define me. In fact, I credit the last 16 months of my apprenticeship for doing more to define me than anything else I have done in my life."