Foreign Bank Office Permit - Financial Regulation
Last reviewed/updated: May 18, 2023
Maryland law (Md. Code Ann., Fin. Inst. §12-201 et seq.) requires out-of-state banks or trust companies not headquartered in Maryland to obtain a permit from the Commissioner of Financial Regulation to have an office in Maryland.
Permit and Renewal of Permit
A completed application for each non-branch representative office to be established in Maryland must be submitted to the Office of the Commissioner of Financial Regulation (OFR) for approval. The applicant must:
Be qualified to do business in Maryland with the Maryland State Department of Assessments and Taxation;
Provide a certificate of good standing and valid charter from its chartering/home state; and
Provide a detailed description of the activities it intends to conduct at the proposed office.
Application and renewal fees are $500 for each location. Include the fee in the form of a check made payable to the Commissioner of Financial Regulation or contact the OFR for wire instructions (see below for OFR contact info).
Upon review and approval, the OFR will issue a Foreign Bank Representative Office Permit to the Applicant.
Permits are valid for three (3) years.
Permits may be renewed for an additional three (3) years by submitting a renewal application, with the required $500 renewal fee, to the OFR at least 30 days before the expiration date of the permit.
Inform the OFR if any information provided in the permit application changes during the three-year permit. Failure to do so may result in the revocation of the permit.
See below for additional resources and application forms.
NOTE: A foreign banking corporation that maintains another license with the OFR is exempt from obtaining a permit.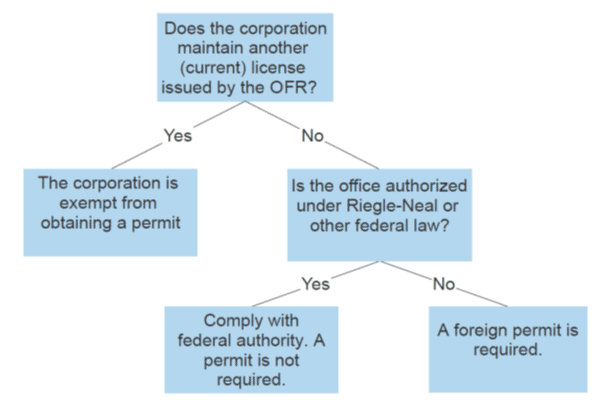 Additional Resources
Contact
For questions about filing an application, contact Stephen Clampett, Assistant Commissioner, by phone at (410) 230-6104 or by email at stephen.clampett1@maryland.gov.
Applications may be submitted to DLFRFinReg-LABOR@maryland.gov.
Mailing Address:
Office of Financial Regulation
1100 North Eutaw Street, Suite 611
Baltimore, MD 21201
---
Application Forms and Instructions
---
Laws, Rules, and Regulations
Banking institutions and credit unions are expected to be knowledgeable about and in compliance with Maryland banking laws, and any other applicable State and Federal laws, rules, and regulations. Maryland laws, rules, and regulations can be found by accessing the Annotated Code of Maryland and Rules and Code of Maryland Regulations (COMAR). Certain relevant Maryland laws, rules, and/or regulations include (NOTE: this is not a comprehensive list):